Image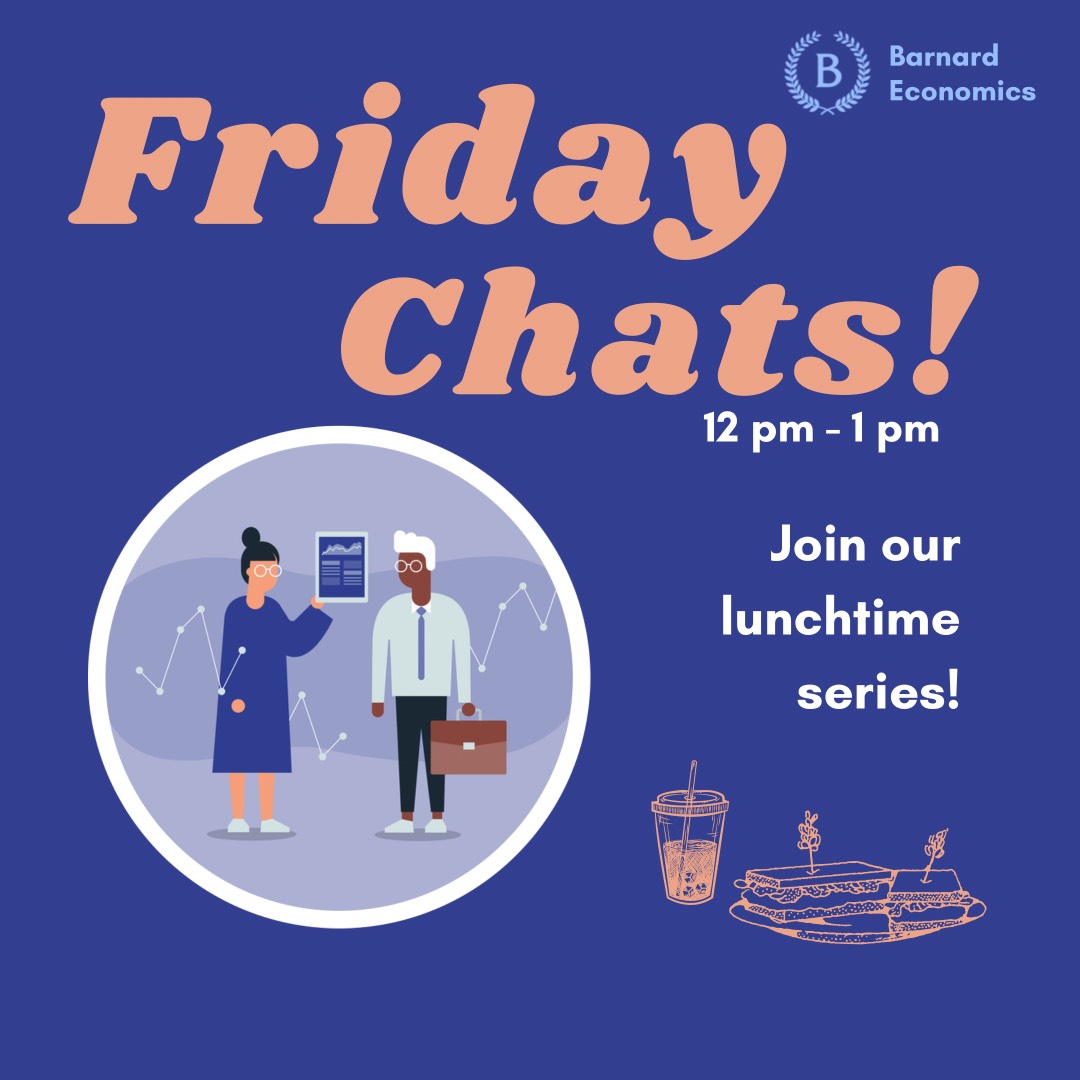 Friday Chats is our lunchtime series and is open to all Barnard students. With this series, you can watch your peers interview Economics professors to learn more about them and issues important to them. These are casual events; attend as many as you'd like and you do not need to sign up. (PLEASE CLICK HERE FOR THE ZOOM CREDENTIALS.)
Here's the upcoming schedule:  
November 12th, Professor Rajiv Sethi interviewed by Elaine Wei (cancelled)
November 19th, Professor Sharon Harrison interviewed by Kate Keeney 
December 3rd, Professor Daniel Hamermesh interviewed by Elaine Wei  Add to Calendar
Past Events
Friday Chats with Guests (Fall 2021)
October 15th, "Connecting with Fed Economists: Covid-19 and the Economy"
Money View Chats with Prof. Elham Saeidninezhad (Spring 2021)
   April 2nd, "Bank-exit: Has the COVID-19 crisis exposed MMFs as the new money market dealers?"
   May 7th, "After the COVID-19 crisis, why banks are switching their role from being dealers to brokers?"
   June 4th, "Are the private equity funds the future financial intermediaries?"
No Free Lunch: Friday Chats with Barnard Econ Professors (Spring 2021)
March 26th, "Interview with Professor Homa Zarghamee"
March 19th, "Interview with Professor Elham Saeidinezhad"
February 19th, "Hibah Rafi '21 interviewed Professor Martina Jasova"