Since 2014, Barnard has reaffirmed its commitment to supporting students interested in science, technology, engineering, and math (STEM) fields through the Summer Research Institute (SRI), which facilitates funding and supports programming for current students to pursue original lab work under the mentorship of faculty.
While SRI 2020 was canceled due to physical distancing requirements to prevent the spread of COVID-19, student research at Barnard has continued both remotely and, later, in person throughout the summer and fall semester.
"I love being a STEM major at Barnard because even in the hardest science classes, the first person to raise their hand is always a woman, and the smartest person in the room is [almost] always a woman," said Hannah Prensky '22, who conducts research with professor Allison Lopatkin. "Every STEM major here shares the common goal of promoting women in science, which always makes studying and learning a collaborative experience."
See more from Prensky below, along with three other students, in both video and written format, as they discuss research at Barnard, the benefits of mentorship, and the surprising findings amid the challenges of continuing their research while the world went remote.
Caroline Cassese '22
Working with assistant professor in environmental science Logan Brenner, environmental biology major Caroline Cassese '22 analyzes powder from coral skeletons to determine their ratios of barium to calcium. These ratios can indicate how much river water is flowing into the oceans, which in turn can be used to inform the public about the impact of human activity on the ocean. A Rhode Island native, Cassese conducted remote data analysis throughout much of the spring and summer before moving to an off-campus apartment to work in the physical Brenner Lab.
Fahmida Moni '21
As a senior majoring in neuroscience and behavior, Fahmida Moni '21 has spent the past year and a half researching with Adam M. Brickman at Columbia University's Taub Institute for Research on Alzheimer's Disease and the Aging Brain. Together, they have been studying a genetic form of Alzheimer's disease (AD) that is observed in adults with Down syndrome (DS).
"I have always been interested in neurodegenerative disorders, particularly Alzheimer's disease. However, my specific interest in Alzheimer's in Down syndrome started almost seven years ago, when my cousin Mustafa was born with Down syndrome," Moni shared.
To Moni, Mustafa felt like her younger brother, so she "wanted to learn everything that [she] could about him and his condition."
This prompted her to begin looking into research on DS, where she learned that almost all individuals with DS display the neuropathological features of AD by age 40 and develop the symptoms of dementia by age 60, making AD the leading cause of death for people with DS.
"What was particularly intriguing to me was the fact that despite all individuals with Down syndrome being predisposed to Alzheimer's, there was still a wide variation in age at onset of dementia, ranging from 40 to 70 years of age," Moni said. "This suggests that there may be important modifiers of risk that are accelerating or slowing the progression of Alzheimer's in this population, and identifying these modifiers would help us find new targets for intervention."
Fahmida Moni '21: Research Inspirations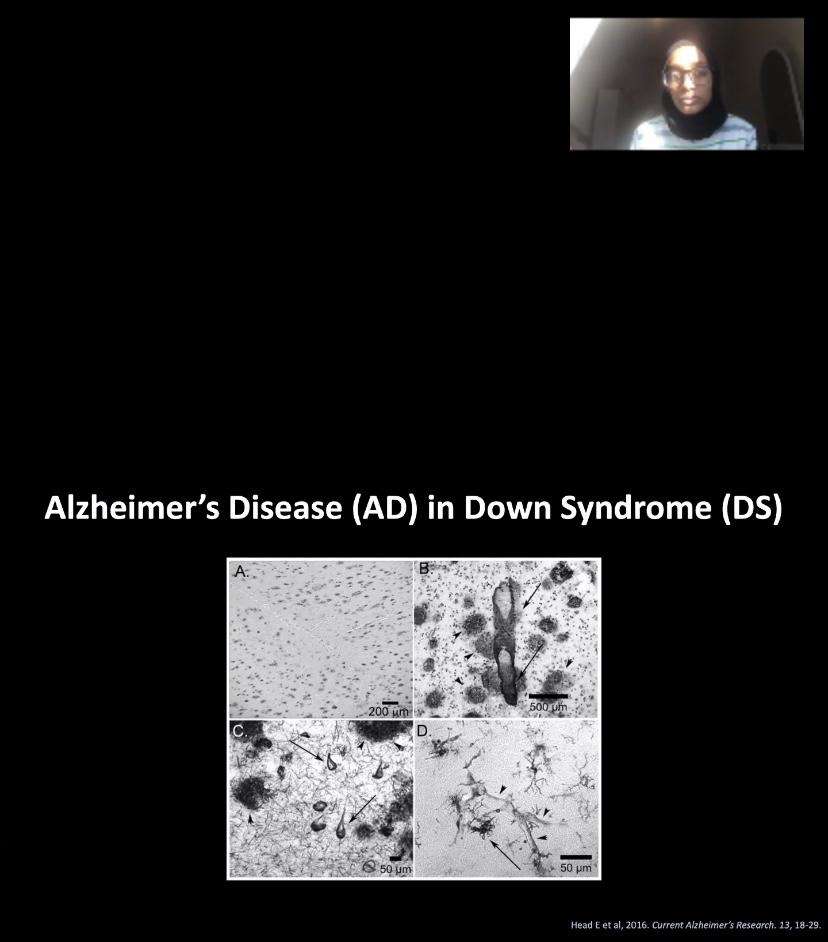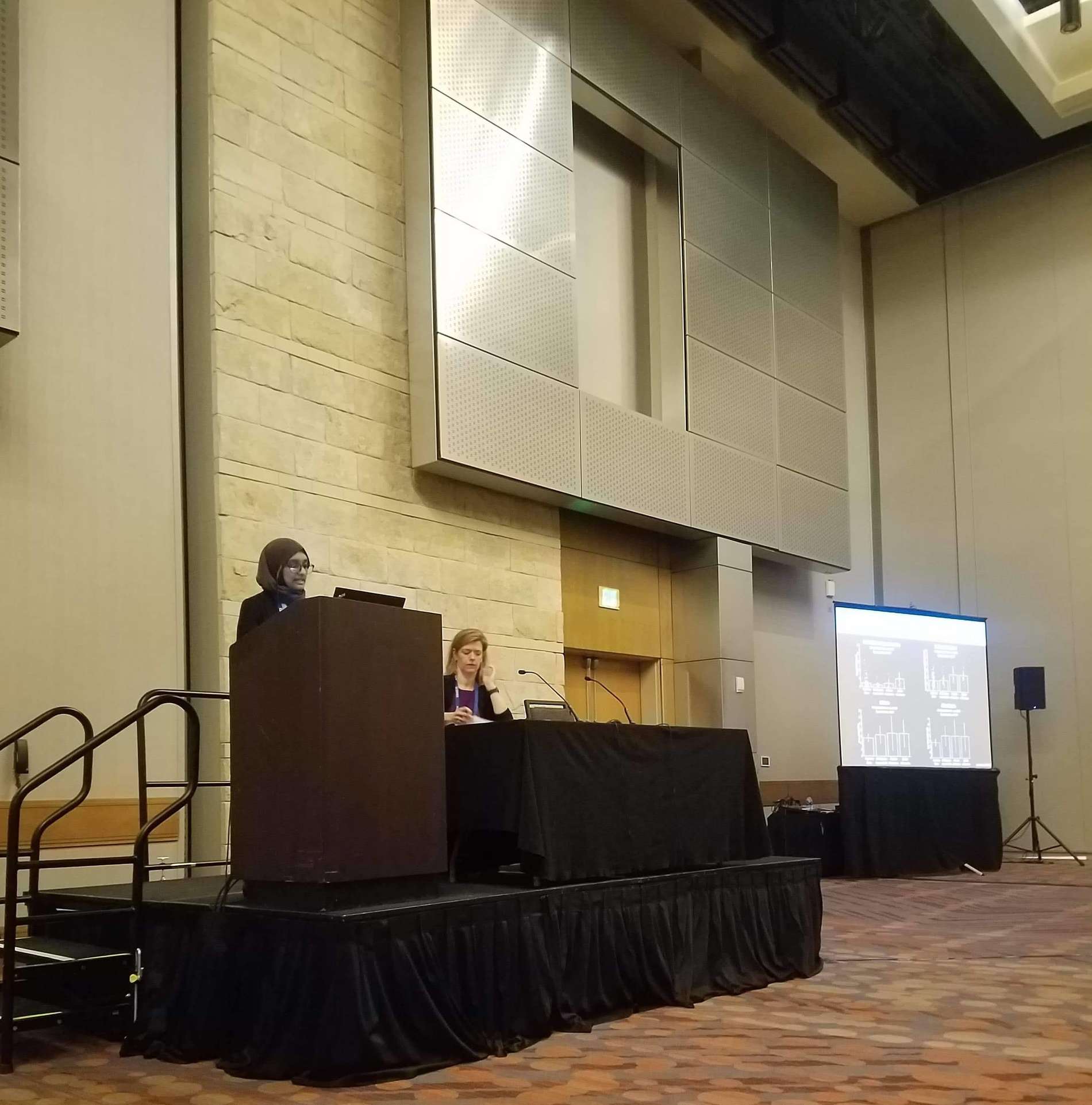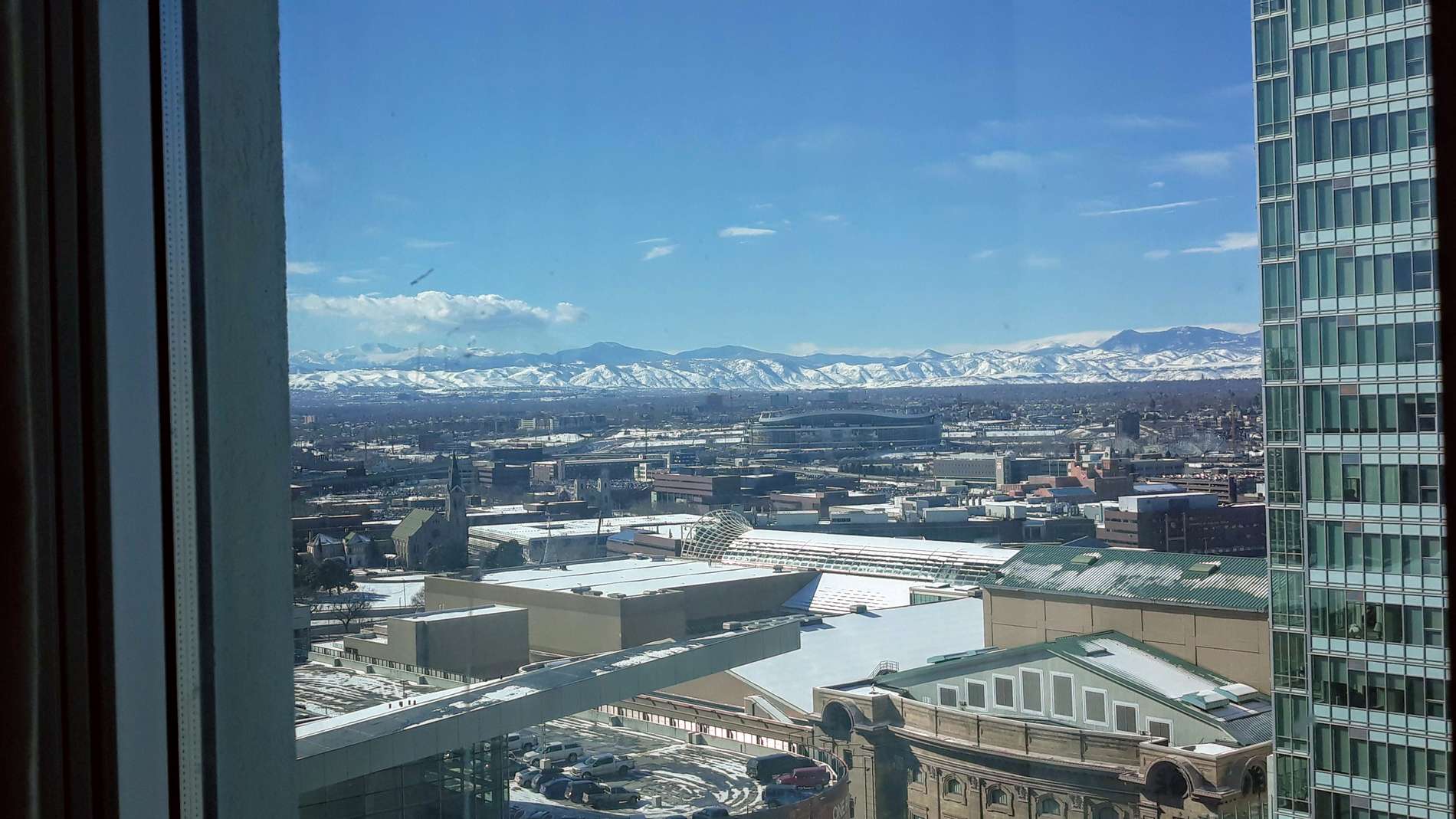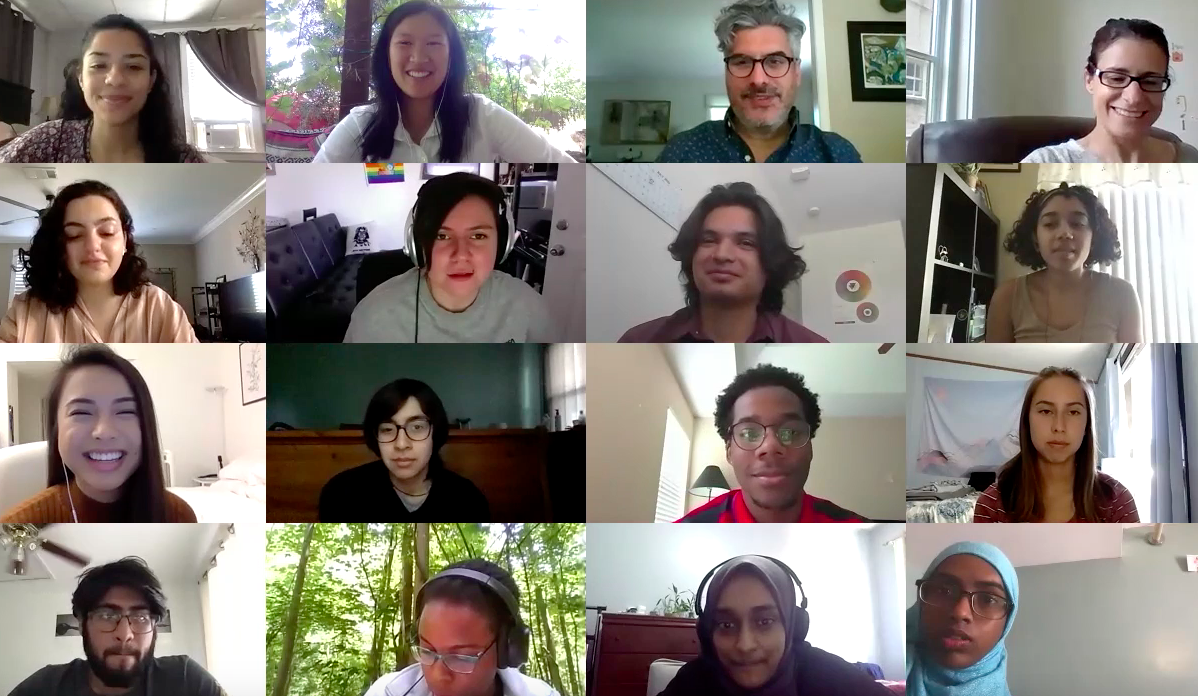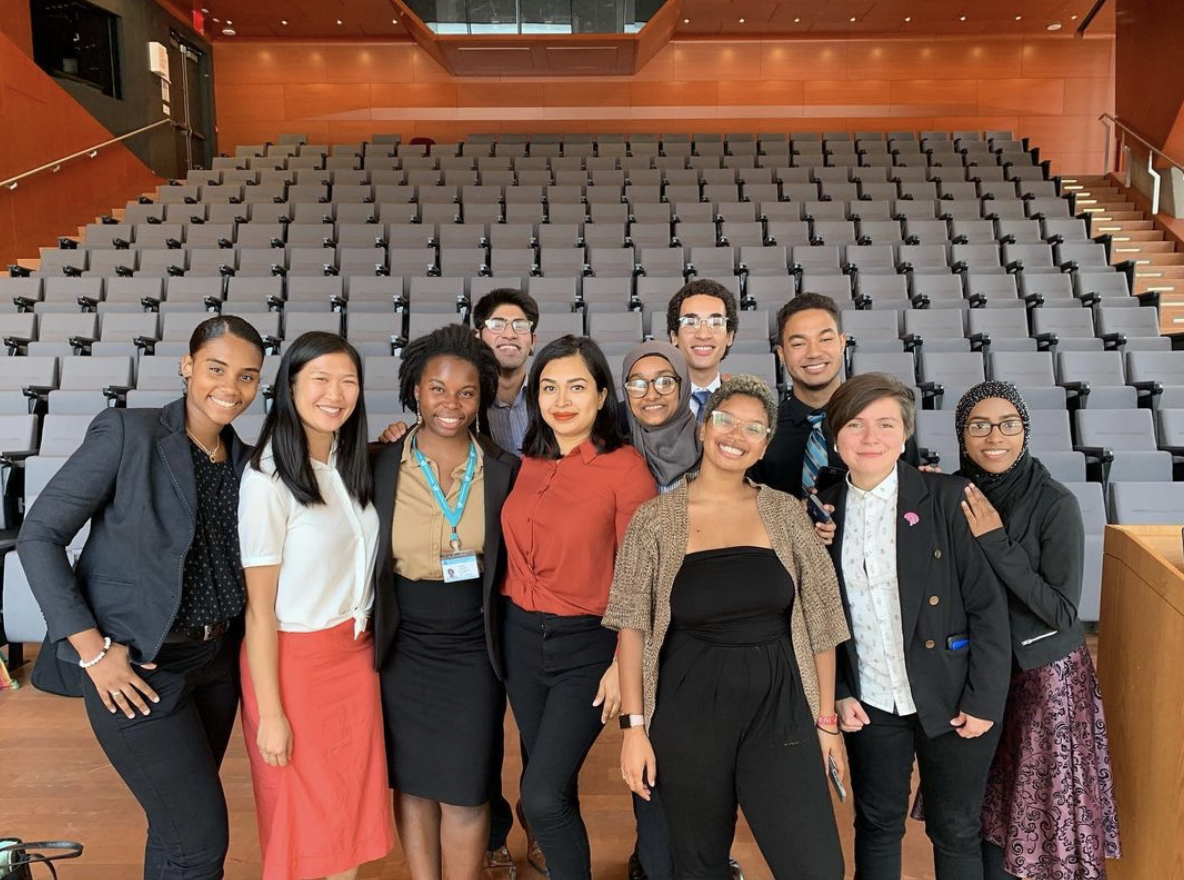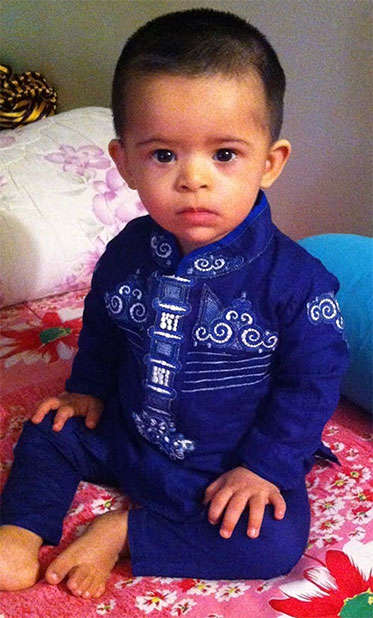 "I presented my research that I conducted last summer with Dr. Adam Brickman at the Advancing Diversity in Aging Research (ADAR) summit which was supposed to take place in Philadelphia but took place virtually over Zoom this year due to COVID)."
 
"Presenting my research at the 48th Annual International Neuropsychological Society (INS) conference in Colorado to an audience filled with leading scholars in the field of neuropsychology. This was in the beginning of February right before the COVID took full control of everything." 
"A view from my hotel room in Denver, Colorado where the INS conference was taking place. It was my first time traveling anywhere outside of NYC, so I took a million pictures just like this one."
"Zoom calls with the program directors (Dr. Adam Brickman and Dr. Stephanie Cosentino), program coordinator (Kiana Chan), alums and second cohort of STAR U. I was one of the four STAR U alums on the call and we were offering advice to the new cohort!"
"I was part of an incredible first cohort of STAR U (Summer 2019) and that was our last day of the program (we had all presented our summer research at a STAR U symposium right before that picture was taken)." 
"Mustafa when he was about one year old."
Although I am a STEM student, I did not want to just learn and do science. I wanted to be a well-rounded STEM student who could think critically and work collaboratively in a team across different disciplines. Barnard allowed me to do just that.
Moni met her mentor, Brickman, through Columbia's Summer of Translational Aging Research for Undergraduates (STAR U) program. Their most recent publication reported an association between AD and cerebrovascular disease in adults with DS. Now, they're trying to locate the cause of this connection, hypothesizing that inflammation might be mediating the relationship between the two diseases.
"I was fortunate to be paired with Dr. Brickman, whose research interests aligned exactly with my own," Moni said. In addition to everything she's learned about being a mentee, researcher, critical thinker, and strong communicator, she said, "I feel incredibly blessed to be working with a mentor who is not only a total powerhouse when it comes to research in Alzheimer's but also just someone who has been my cheerleader every step of the way. He believed in me when I didn't by taking a chance on me, and I am grateful for the doors he has opened for me in research."
Brickman, Columbia's professor of neurology and researcher at the Taub Institute for Research on Alzheimer's Disease and the Aging Brain, praised Moni for her diligence and mastery of the issue. "Fahmida is an exceptionally talented, smart, curious, careful, and hardworking scientist; I have thoroughly enjoyed working with her," he said. "One of the great things about Fahmida is that she has the intellectual curiosity and courage to take on challenging scientific problems. She's been an important member of my laboratory and has played a significant role in moving our work forward. She carries out the work with kindness, a collaborative spirit, and enthusiasm."
Throughout her time at Barnard, Moni has had the opportunity to present at conferences, including the 48th Annual International Neuropsychological Society conference and the Advancing Diversity in Aging Research summit. She also recently co-authored a paper in Annals of Neurology.
Moni said she was drawn to Barnard not only by these research opportunities but also by the strong emphasis that all students receive an education across the arts and sciences. "Although I am a STEM student, I did not want to just learn and do science," Moni said. "I wanted to be a well-rounded STEM student who could think critically and work collaboratively in a team across different disciplines. Barnard allowed me to do just that."
Courtney Jacobs '21
Economics major Courtney Jacobs '21 SIPA '22 works with assistant professor of economics Anja Benshaul-Tolonen to research how women's decision-making impacts agricultural outcomes. Drawing on data from the Living Standards Measurement Study conducted in Nigeria from 2010 to 2011, she has analyzed data from 5,000 households and 13,168 plots of land to measure how the quantity of crops and revenue varies between female-led and male-led homes. As a New Jersey native, Jacobs does her econometrics work remotely.
Hannah Prensky '22
As a researcher in the Lopatkin Lab, run by assistant professor of biological sciences Allison Lopatkin, Barnard junior Hannah Prensky '22 uses computational biology to study antibiotic resistance. While her previous lab experience was all "wet lab" work — hands-on experimental work with different chemicals and substances — her advisors had encouraged her to also seek out computational "dry lab" experience.
This advice is what led her to Lopatkin. In May, Prensky joined the Lopatkin Lab as a remote researcher from her home in Maryland. There, she learned how to code in the MATLAB program in order to visualize large sets of data for a scientific paper about the newly discovered effects on bacteria cells immediately after they acquire new plasmid DNA through direct cell-to-cell contact. 
"This research is important because plasmid DNA carries the information needed for cells to become resistant to antibiotics, and cell-to-cell contact is the primary driver for the spread of antibiotic resistance," Prensky explained.
After receiving feedback from peer reviewers at the end of the summer, Prensky moved to an off-campus apartment, allowing her and Lopatkin to collaborate in-person and collect additional data for analysis in Barnard's physically distanced lab spaces.
"I couldn't have asked for a better mentor," Prensky said of Lopatkin, with whom she submitted a research paper to a journal in December. "From the beginning, even though the in-person summer research experience was canceled, Professor Lopatkin gave every member of our lab the opportunity to engage in meaningful remote projects and to learn new, incredibly useful skills."
Prensky is double-majoring in cellular & molecular biology and economics, the latter of which she views as integral to her experience as a STEM researcher. "It is impossible to separate research from money and finance, because I believe you can't run a lab without a proper understanding of how to allocate scarce resources," Prensky said. "My education in economics from Barnard will help me gain those skills."
---
For more on student research, check out these recent journal articles from Barnard students: